Keep infants and children secure with the top protections solutions in the industry, Hugs®, Pedz and Kisses®. The Hugs Infant Protection System is a comprehensive infant security system that includes tamper alarms, exit alarms, and out-of-unit alerts that allow staff to act quickly. Hugs sends alerts directly to caregivers and automates the transfer of infants between areas of the hospital for smoother workflow and uninterrupted security. It provides tangible proof to parents that their infants are safe and secure.
No other infant security provider matches the power of the Hugs system. It is the only infant protection system on the market to provide proven hospital-wide infant protection. By leveraging a hospital's existing Wi-Fi infrastructure, staff are given the ability to locate an infant anywhere with Wi-Fi coverage, and to trigger a lockdown in the event of tag tampering. With the Kisses option, hospitals provide an extra layer of protection. The Kisses system is the only audible and automatic mother/infant matching solution on the market.
Pedz is specifically designed to protect pediatric patients from abduction and patient flight. Pedz features a unique patient tag designed for older children coupled with the same proven technology of Hugs infant protection solution.

Fully supervised
Tamperproof tags with skin sensors
Auto tag enrollment feature
Facility wide tracking of tags
Over more than 15 years hundreds of hospitals have placed their trust in the Hugs system for security within the Obstetrics unit. Hugs® is the most widely deployed electronic infant protection solution, with a well-earned reputation for reliable security, ease of use and flexibility to adapt to existing workflows.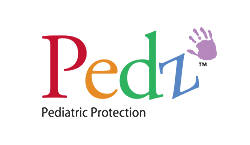 Tamper protection
Customized based on patient age & risk factors
Integrates with other hospital systems
The STANLEY Healthcare Pediatric Security solution is the only system specifically designed to protect pediatric patients from abduction and patient flight. A unique patient tag designed for older children is matched by multiple software options to facilitate smooth patient transfers and customizable security based on each patient's risk profile. The solution uses the same proven technology of STANLEY Healthcare's Hugs® infant protection solution, in use at over 1,600 hospitals worldwide.

Waterproof tag & band
Tested for skin sensitivity
Immediately confirms match / mismatch of infant & mother
Any Hugs tag can be used with any Kisses tag
The STANLEY Healthcare Hugs® infant protection solution with Kisses® option provides an extra layer of protection by automatically checking for the right mother/baby match.  Engineered for comfort, each mother is given a non-obstructive Kisses wrist tag that is bonded with her infant's Hugs tag at birth. From that point forward, the tags remain bonded throughout the hospital stay. The Kisses tag can be bonded with as many Hugs tags as necessary to support multiple births. Whenever a baby is brought to a mother, the Hugs tag will check for the right match. If the mother's tag isn't a match, the Hugs tag immediately generates an audible alarm before breastfeeding occurs, and sends a message to the system that is displayed in the Hugs software.
NEED TRAINING?
IN-SERVICE TRAINING
After the completion of the installation, our team of highly skilled sales professionals step in to provide the nursing staff and facility designated trainers with the tools they need to use, maintain and train future staff on the features and benefits of the system. Ideally, training sessions are scheduled to coincide with shift changes at the facility in order to capture the greatest possible audience and maximize the training experience for all available staff.
COMPREHENSIVE AND REFRESHER TRAINING
TotalKare is able to provide, by request, refresher and/or comprehensive training provided by the manufacturers themselves to enable facilities to utilize their systems to their greatest potential. Comprehensive training will cover all shifts and staff will be trained on all features of the system and best practices. For the Hugs Infant Protection System, the facility will have access to the Stanley Healthcare Clinical Education Team of highly skilled nursing professionals.
In addition to on-site training, material is available online or via WebEx sessions with the manufacturer.  Please contact TotalKare to discuss your facility's training needs.
Extended Service Contract Plans
Bronze
Priority Service Call Handling
8 am – 5 pm Remote Support
Annual System Health Check
Software Maintenance Agreement
Silver
Priority Service Call Handling
24 / 7 Remote Support
Annual System Health Check
Software Maintenance Agreement
Replacement Components
Discounted Rates for Onsite Service
Gold
Priority Service Call Handling
24 / 7  Remote Support
Annual System Health Check
Software Maintenance Agreement
Replacement Components
Covers All Labor and Travel
Discounted Consumable Pricing
Server Replacement After 6 Consecutive Years
For Hugs systems: 1 day clinical refresher training every 3 years